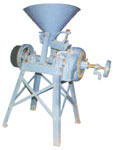 Two long brass, special design of steel hopper, red thrust handle, Zink plating bolt & nuts, extra finishing of color is our speciality.

Crust plate is the heart of corn mill.

As per below designed crust plates find parallel therefore you can get maximum average of output only in our mill.

Horse Power & Output for Grinding Mill
Size of Mill
Required H.P.
R.P.M.
Size of Pulley
Appx Output (kg/hour)
Fine
Med.
Coarse.
1A(10")
5 to 6
600
250 x 100 mm
200
300
450
2A (12")
6 to 7
550
250 x 100 mm
300
400
550
Export Packing Specification*
| | | | | | |
| --- | --- | --- | --- | --- | --- |
| | L | B | H | N. WT. | G. WT. |
| 1-A Mill | 800 | 400 | 275 mm. | 110 | 135 kg. |
| 2-A Mill | 1000 | 525 | 325 mm. | 150 | 190 kg. |
Necessary Precautions:
1. When ever you open the mill, clean off the flour which may have coagulated around the fixed stone, so that there remains no possibility of the stone get damaged.

2. Do not grind the stones, without feding into the mill, if you do so, you will make of the stones weaker.

* Note: Mill hopper packing will be given separately as per your instruction.
** Quality can not be explained orally or not on the paper. It can be found after practical use of machine.